JR's Inside Out Project in Portland
Amazing things going on down in Portland. Our friends Portland Street Art Alliance and One Grand Gallery have brought JR's Inside Out Project to Portland.

From http://www.pdxstreetart.org/ –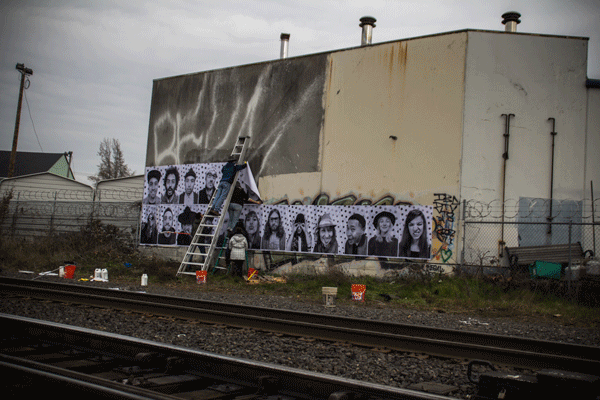 On Saturday, November 30th, 2013 a group of community members transformed the wall of K+F Coffee Roasters (alongside the train tracks of inner SE in the Brooklyn neighborhood) into a people's public art gallery. PSAA helped install and document the wheatpasted mural. One Grand, a contemporary art and design gallery in Portland, organized the city's first JR Inside Out Project, with the theme of "Keep Portland Weird." The Inside Out project involves an organizer choosing a theme, proposing the project to JR, taking photos of local community members based on that theme, sending those images to JR who prints them out and sends them back, and then the community comes together again to paste the portraits in public spaces around the city, creating massive collages that literally put a human face on our urban environment. This is global art project has been carried out by citizens of hundreds of cities across the planet. We see this as a great way to involve the larger community in the production of street art, helping to teach people about the process and demystify some of the misconceptions about street art is an illicit and illusive activity. This project shows that anyone can impact their environment and get involved with public space interventions.