New Wakuda mural in progress!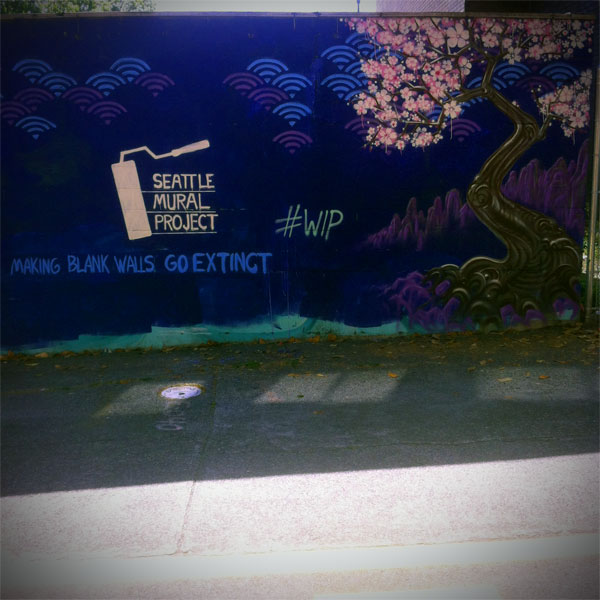 Kicking things off with a new Wakuda mural in the University District.
Awesome new cherry blossoms going up here in the U-District. This work in progress will continue through the month of July. We'll announce the location soon but for now you'll have to follow the clues.  Clue #1: Some call it "The Ave" but it's actually a "way" to find our newest mural.  Clue #2:  Near the mural is a restaurant that shares its name with an Area 51 employee and Seattle pop culture alumni.
A bunch of good things coming up. Nosego is currently scheduled to paint in SoDo in August. – ALSO – Save the date – Second Thursday in September for our Seattle Mural Project party in conjunction with the Capitol Hill Art Walk. Location and details to be announced.
Don't forget to share our Indiegogo crowd funding campaign with your people. We have 8 days left.
We can't do it without your help so we've made it even easier to share our fundraiser with your friends. Paste these right into your favorite social media:
---
USE THIS FOR FACEBOOK:
Seattle Mural Project needs your help to make their funding goal. They're bringing great colorful murals to the walls of Seattle. Donations are tax deductible! Help make blank walls go extinct! http://igg.me/at/seattlemurals/x/3096063
Spread the word and share this with your friends!
---
CHOOSE ONE OF THESE FOR TWITTER:
#Seattle Mural Project is bringing #murals to blank walls! DONATE + RT THIS! http://bit.ly/1lu1Mq3 #streetart
#Mural Project on #Seattle walls #support and share! http://bit.ly/1lu1Mq3 #streetart
#Support the arts project bringing color to #Seattle walls. http://bit.ly/1lu1Mq3 #arts #streetart #murals #PNW
Or create your own!
Thanks!